Capture Yourself on Camera: Why You Should Film Your Tennis Practice
Nowadays, it's normal for athletes to film themselves while training.
While it may make you feel self-conscious, it's a good way to observe one's performance and spot areas of improvement.
You just need to get over the possible uneasiness of watching yourself in action.
That being said, here are some ways filming yourself helps you become a better tennis player.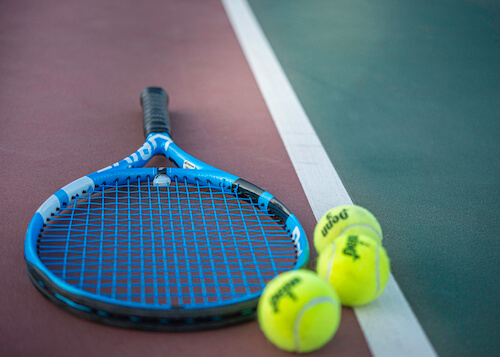 Why You Should Film Your Tennis Training
See your form in action
When you're training by yourself, it's hard to check your form to see if you're doing things right. For a more accurate view, videos can definitely help. This way, you can see yourself from different angles and examine your shots and court placement. You get to avoid injuries from improper form too.
Spot areas of improvement
Videos allow you to see where you can do better — whether it's how you serve or how you receive the ball. Of course, you can always ask someone to watch one of your games, but it may not be consistent since you don't always play the same way. Having footage is a much better reference, and you can keep going back to it as needed.
Track your progress
The tennis players we're used to seeing on TV are professionals, and that is our main reference point. This means that you might end up disappointed when you see yourself play on the video for the first time. Don't be discouraged and instead remind yourself that you'll also be able to watch your improvement over time. Recording yourself broadens your experience for learning, and it's definitely a boost of self-confidence and motivation when you see tangible progress.

What You Need
A good quality camera
You can opt to use your smartphone to record, but it may not be able to catch all the important details and provide you with the best resolution. Fortunately, there are cameras that can take high-definition videos with multiple filming settings. GoPro camcorders, in particular, are great since they're compact enough to easily be set up anywhere on the court to get the best shots of your game. They shoot in 240FPS, making them perfect for super slow-motion shots if you want to study in detail your forehand and backhand form.
Tripod
You can always ask someone to take your videos for you, but a sturdy tripod ensures that you get stable footage all the time. A high viewpoint is preferred to make it possible to see the action from both sides of the court. The 3 Legged Thing Bucky has a maximum height of 191cm — and with a solid construction, you don't have to worry about it being knocked off-balance during outdoor matches.
Editing apps or software
If you're planning on sharing your videos, it's good to equip yourself with editing apps or software. These will allow you to adjust brightness, sharpness, color, and more. Basic video editing apps such as Lightworks and PowerDirector are free but are still good for editing basic videos. At the end of the day, you're shooting for yourself so don't stress about it so much and focus more on your training.